FABRICATION

A FIRM GRIP ON FABRICATION

Madden's expert fabrication team stays engaged with customers throughout the entire fabrication process to ensure products are assembled quickly and accurately. We implement various audits and quality assurance checks to prevent delays that could compromise the success and cost of your project. With the best lead times nationwide, Madden Bolt is the go-to fabricator of high-quality steel plate products and custom steel assemblies for many industries including power generation, refining, energy, transportation, mining, and government.
CUSTOM FABRICATION OF STEEL PRODUCTS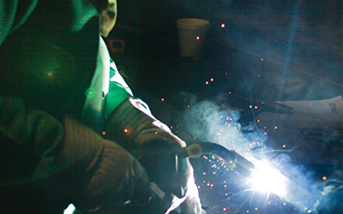 Madden carries 100 tons of raw material in various grades. We customize the following steel products according to customer specifications and designs.
Burned and Drilled Carbon Products
Embedded Steel
Embed Plates with Welded Studs
Stairs
Handrails
Embed Angles
Anchor Bolt Cages
Madden's reputation for product reliability and quick turnarounds is based on our experienced steel fabrication team and streamlined services, including custom anchor bolts and galvanizing.
HAVE A RUSH ORDER?

Madden is your lifeline for last minute needs. When you partner with Madden, orders that typically take weeks can be filled in days or even hours. Call us now to get a quote.
Fabrication Standards: ASTM A123, A153

CUSTOM STEEL PRODUCTS AND ASSEMBLIES PORTFOLIO